Chromatic Wednesdays #33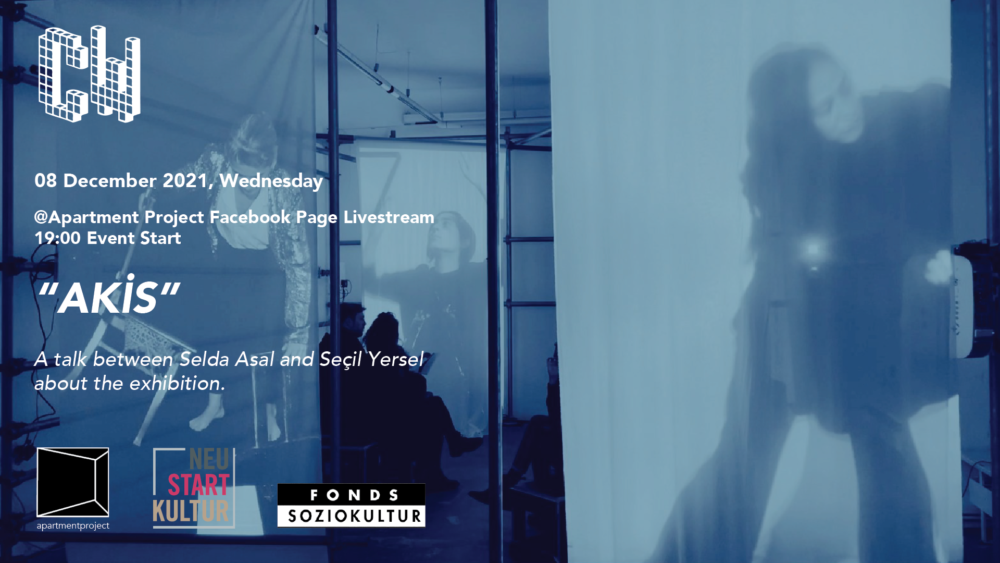 Chromatic Wednesdays
drafted and organized by Apartment Project
supported by "NEUSTART KULTUR" and Fonds Soziokultur
December 2021 | Immigration| Episode 3
A conversation by Selda Asal and Seçil Yersel about the "AKİS" exhibition.
8 December, Wednesday
@Apartment Project Facebook Page
19:00 Event Start
**This is a live stream event**
Once again we find ourselves within the lockdown situations. Because of the Covid-19 and new Omicron variant we decided to finalize the first season of Chromatic Wednesdays with a live stream episode.
It was quite a marathon since the last December and we wish to thank you, everyone, for their support. We will see each other next year with the 2nd season of Chromatic Wednesdays!! Better, faster, and more colorful.
For the 33rd and the last episode of CW, we will delve into the exhibition "AKİS" and wander around its narration.
We will explore the exhibition together with Seçil Yersel and Selda Asal
Akis is a narrative audiovisual installation, that explores the multi-layered emotional accumulation of migrants from Turkey. Always caught in the mental space between the two geographies, generations have shaped multiple memories and narratives. These have unfolded their feelings, reflections, and puzzles between the two identifications. This exhibition will try to put together, jointly conceived, and produce feelings of belonging to the contemporary diaspora in the city of Berlin, with diverse backgrounds in music and new media.