Chromatic Wednesdays #1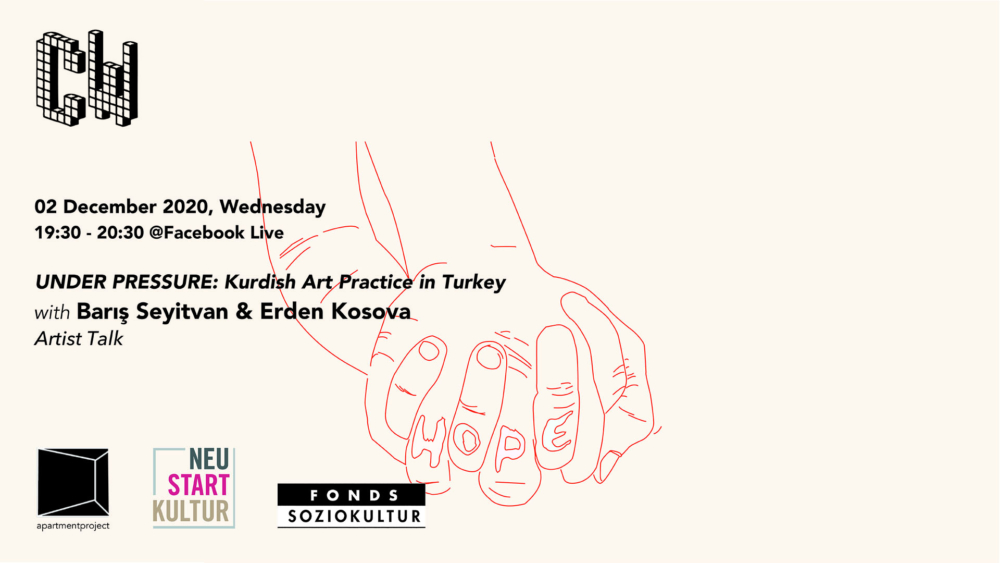 Chromatic Wednesdays
drafted and organized by Apartment Project, supported by "NEUSTART KULTUR" and Fonds Soziokultur
December 2020 | Freedom of Speech | Episode 1
Under Pressure: Kurdish Art Practice in Turkey
Talk with Barış Seyitvan
Moderated by Erden Kosova
The conversation with Barış Seyitvan will focus on the traumatic impacts of state repression in the Kurdish region of Turkey and on the contemporary art practices from the region. He will also focus on his experiences as the director of the Municipality Art Gallery in Diyarbakır, and the closure of the institution in parallel to the recent confiscation of local power by the central government. Seyitvan will conclude with his observations on the current practices from the region and in the diaspora.
The event will be held in Turkish.

2 December 2020, Wednesday
19:30-20:030 (GMT+1)
@Zoom / Facebook Live
The conversation will be live-streamed on Facebook Live and will be followed by a Q&A session over Zoom. The link for participating in the Q&A will be posted on the day of the event.
Barış Seyitvan is an independent Kurdish artist and curator from Diyarbakir, Turkey. His professional experience spans twenty years of work with arts organizations, individual artists, and nonprofits. Seyitvan's focus is on contemporary art and migration in the Middle East. His work explores and reflects on the trans-national reality of the global Kurdish community. Since 2015, Bariş Seyitvan has been a member of the Merkezkaç Art Collective in Diyarbakır, an independent artist collective that aims to make visible and promote the potential of the contemporary art scene in the regions Diyarbakır, Batman, and Mardin.
Most recently, he curated in 2020 the exhibitions "So Near Yet So Far" at the Palmenhaus of Villa Waldberta, Munich, Germany, "The Heirs" at the Galerie Hinterland in Vienna, Austria, "Under the Same Sky"at Luis Leu, Karlsruhe, Germany and "The street heals me, Rezzan Gümgüm, solo Exhibition" at Tosca Art & Design, Ankara, Turkey in 2019. Barış Seyitvan is a resident at Artists at Risk (AR) from February 2019 until December 2020. His AR-Residencies in Helsinki, Belgrade, Karlsruhe, and Berlin are coordinated and funded by Artists at Risk (AR).
Erden Kosova is an art critic from Istanbul and lives currently in Berlin. As a content producer, he has been contributing to the visual art events held at Maxim Gorki Theater since 2013. With Galit Eilat, he is currently working on the discursive program of Art in Dark Times, hosted by transcultural project bi'bak. Kosova also takes part in a research project organized by Hafıza Merkezi (Istanbul), which focuses on the ways in which visual arts have approached human rights violations in the recent past of Turkey.
Chromatic Wednesdays is a culmination of our recent collective consciousness — the pandemic has disrupted our ability, creativity, and production. How do we as artists and intellectuals develop alternative forms of thinking and articulate this unclear existential situation? How can we get out of this limbo? How can we expel it?
Addressing these questions, Apartment Project developed a program titled Chromatic Wednesdays, which consists of 33 individual events, that will take place within eleven months starting from December 2, 2020. Each month will revolve around specific themes on current issues such as; immigration, pandemic, ecology, sustainability, gentrification, gender, survival, boundaries, geography, freedom of speech, and future. On three Wednesdays per month, artists, musicians, performers, scholars, scientists, and cultural practitioners will be invited to collaborate and share their research, practices, and experiences. Project space will host a variety of events such as; concerts, performances, workshops, film screenings, lectures, exhibitions, readings, panel discussions, and dinner gatherings.
"Gefördert von der Beauftragten der Bundesregierung für Kultur und Medien"