Chromatic Wednesdays #21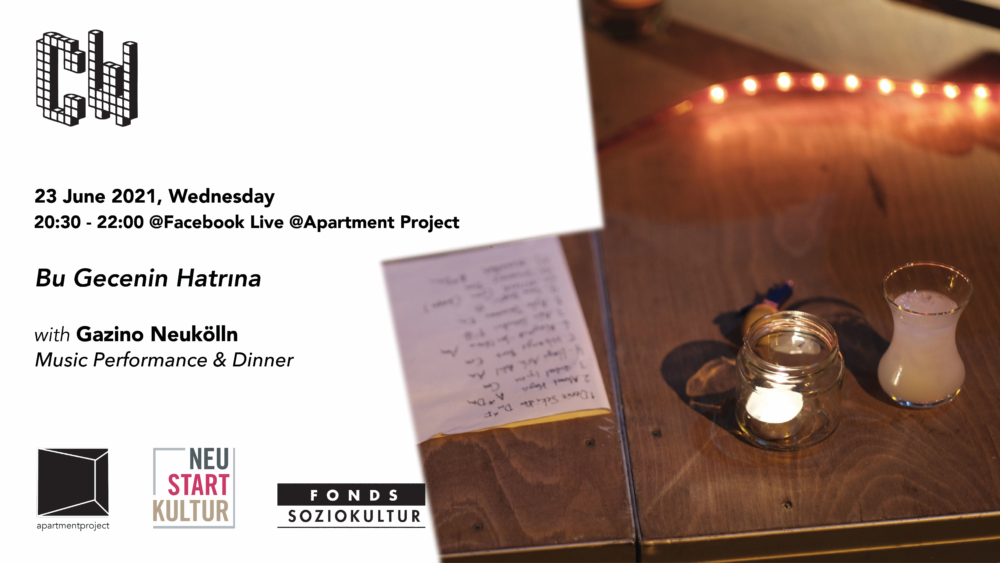 Chromatic Wednesdays
drafted and organized by Apartment Project
supported by "NEUSTART KULTUR" and Fonds Soziokultur
June 2021 | Gender | Episode 3
Bu Gecenin Hatrına
with Gazino Neukölln
23 June 2021, Wednesday
Live Music Performance
20:30-22:00 (GMT+2)
@Apartment Project
We finalize our program for June with good music and cold raki. We host Gazino Neukölln in the Apartment Project. An intimate "Gazino" night with flying napkins, plate smashing, song requests, love stories, lots of fun, and a little bit of sadness. The event will also be live-streamed through Facebook Live.
Gazino Neukölln re/writes lyrics to tell the story of our everyday problems with racism and heterosexism, as well as to give a glimpse into the world we aspire to build. We try to create performative queer worlds as we replace homophobic, transphobic, and sexist lyrics of the hits with the words and expressions from Turkey-originated queer slang lubunca. It serves not only as an artistic form of activism but also as a source of amusement both for us and the audience. For us, messing up the original has a similar political power with queer feminist movements in terms of dislodging and changing what has been established. We bring genres and artists that are not likely to come together in the dominant public imagery. The songs that are remolded are not exclusively from the Turkish music scene but also from Germany's migrant music history (such as RnBesk) and from internationally known figures. The demographic profile of our audience, therefore, cuts across the boundaries of ethnicity, class, and generation.
Berlin-based queer-feminist band Gazino Neukölln consists of five women* and non-binary musicians, playing original songs, re-makes, and mash-ups mostly in Turkish. The band performs a dream that brings the arabesque-kitsch aesthetic of Gazino (the famous nightclubs from the 1960s and 70s Turkish metropoles) with feminist rage and hope, peppered with queer humor. Their songs revolve around their problem with everyday racism, heterosexist lyrics of queer repertoire, charity instead of solidarity, and orientalist white queer politics. Let them raise their Rakı glasses to collectivize the heartbreaks and joy in the reenactment of glorious Gazino halls.
Live-stream link: https://www.facebook.com/apartmentprojectberlin/live/
Previous episodes of Chromatic Wednesdays: https://www.facebook.com/watch/487333424612058/870336180382778