Chromatic Wednesdays #26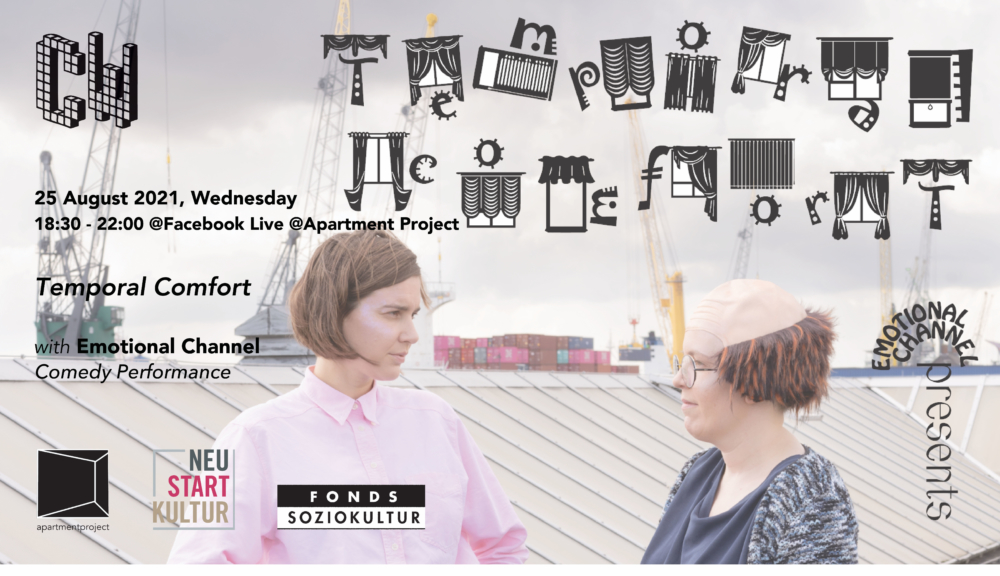 Chromatic Wednesdays
drafted and organized by Apartment Project
supported by "NEUSTART KULTUR" and Fonds Soziokultur
August 2021 | Survival | Episode 2
Temporal Comfort
with Emotional Channel
25 August, Wednesday
Live Performance
18:30-22:00 (GMT+2)
@Apartment Project
18:30 Opening
19:00 Performance
Emotional Channel presents Temporal Comfort by Angelica Falkeling and Anna Łuczak.
IG: @channelemotional @angelfalken @annamarialuczak
website: emotionalchannel.hotglue.me angelicafalkeling.com annaluczak.com
The two artists have been claiming the unwanted space of the entertainer by studying comedy writing and stand-up delivery. It is the world premiere of their first and maybe only ever duo stand-up show presented as a performance. They know there are many out there who are keen to try, to deliver a punchline, and maybe they hide in the art closet.
Emotional Channel mocking the binary lines of the professional and private life. In this stand-up set, they tap into their miserable joy and vulnerable privileges. The two artists first got to know each other during an exhibition trip. For reasons that can not be shared, it turned out more turbulent than expected. They started working together, presenting exhibitions, performances, a pop-up store, a Milk Bar, and most recently, an online yoga practice. During their rehearsals prior to the Apartment Project, they followed online guidance. More experienced entertainers, such as Jerry Seinfeld and Jonatan Unge taught them about jokes, writing methods, and memorizing techniques. Temporal Comfort is anecdotal in its structure; it is a severe piece of comedy. Funny by nature, serious in attitude.
Bio
Emotional Channel is the name and title of a collaborative project initiated by the artist duo Angelica Falkeling (SE) and Anna Łuczak (PL) in 2018. Both artists have been based in Rotterdam, NL, and are active in the city's artistic community for many years. They are both graduates (2017 respective 2013) from the Master of Fine Art program at Piet Zwart Institute in Rotterdam, NL. Łuczak has also perceived a one-year-long research residency at the Jan Van Eyck Academie in Maastricht, NL (2018).
Emotional Channel has previously shared their work as a performance, exhibitions, and a pop-up shop at the old RET building in Rotterdam, the museum shop at Het Nieuwe Instituut, Skaftfell Art Center, Rib Rotterdam, and Olga's Flat in Berlin. In conversation with Magdalena Adameczek, you can read more about their BitterSweet Reality and mesh of art and life on Guestrooms
http://www.guestrooms.xyz/bittersweet-reality/
photo by Jakob Forster
Graphic design: Roxanne Maillet See Less