Chromatic Wednesdays #27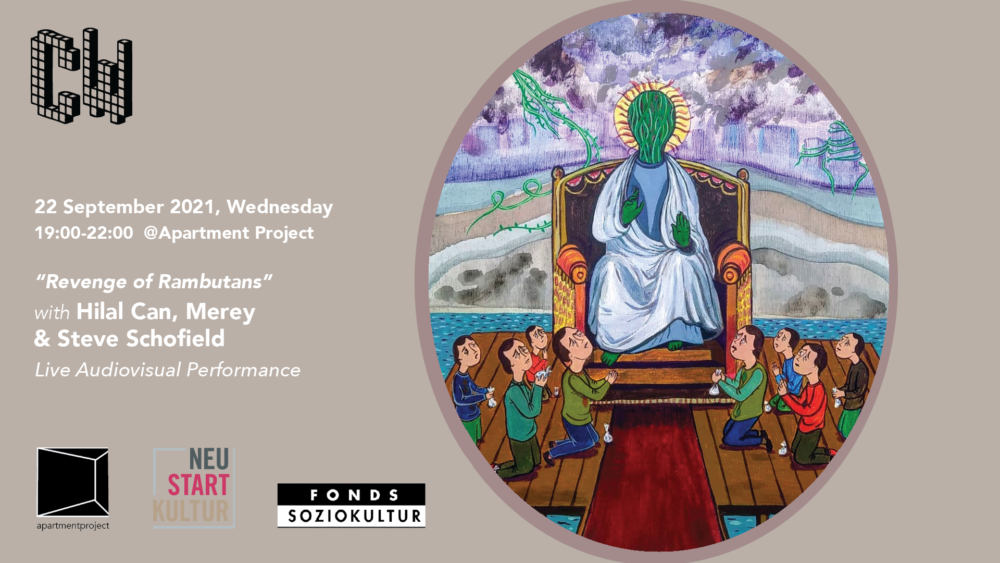 Chromatic Wednesdays
drafted and organized by Apartment Project
supported by "NEUSTART KULTUR" and Fonds Soziokultur
September 2021 | Survival | Episode 3
Revenge of Rambutans
with Hilal Can, Merey & Steve Schofield
22 September, Wednesday
Live Performance
19:00-22:00 (GMT+2)
@Apartment Project
19:00 Opening
20:00 Performance
"Revenge of Rambutans"
Hilal and Merey who have been performing together before, now includes Steve and will tell a story together, of 'surviving' -' together'. Running away from vegetable gods, tourism of natural disasters where you can witness different acts of fires and stories that are stranger than fiction will be performed with sound and analog imagery.
Live-stream link: https://www.facebook.com/apartmentprojectberlin/live/
Previous episodes of Chromatic Wednesdays: https://www.facebook.com/watch/487333424612058/870336180382778
******
Hilal Can is an artist based in Istanbul.
Her performance Cyclop Visuals is an analog liquid & light show project by using an overhead projector. The project aims to bring together the musicians and sound artists from various disciplines and practices from all around the world and to visualize the moment in an analog way by using an overhead projector.
Regarding these, it objects to create a new dialogue among artists and share it with the audiences. The visual part of the project focuses on improvisation, expressing emotions, and illustrating sound stories by using different tools like liquids and characters.
For earlier performances, you may check the link https://www.youtube.com/user/makasjohn
****
Merey studied Fine Art, Time Based Medium at the University of Arts London. Contributed to public space art events and exhibitions with performances and workshops in London and Istanbul. Recently, has been playing live in different cities with musicians and visual artists. For the following year, she will be studying in a Master of Arts Program at Universität der Künste Berlin, concentrated on Sonic Arts and Sound Studies.
Merey uses experimental electro-acoustic techniques such as contact microphone instruments, loopers, and so on. Performances that Merey creates constitute a conceptual background most of the time, that is expressed by spoken word. as a tool to stimulate feelings or simulate dreams.

****
Steve Schofield is a musician from UK/Australia. He mostly plays wind instruments and keyboards. Living in Berlin, he is involved with freely improvised music performances and interdisciplinary art projects. He sees improvised music as a fantastic language for expressing what there is to be felt in the moment of now, a way of bringing audiences to shared places of being.
He has performed at festivals in Australia, Germany, Spain, India, and Thailand.
He performs regularly with GENES – a Berlin-based trio, who released their debut album in 2020 titled "Presents of Presence" available online.