Chromatic Wednesdays #28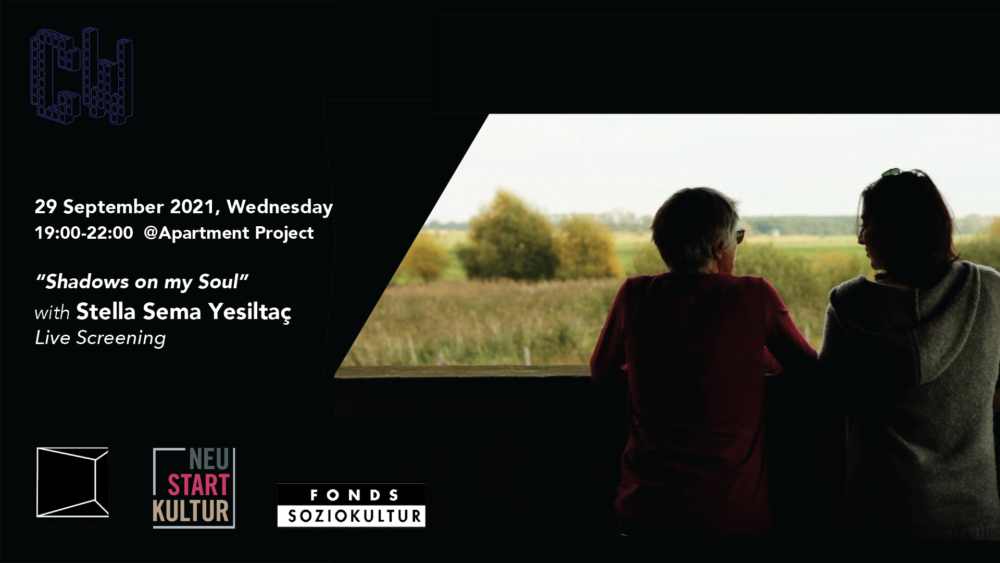 Chromatic Wednesdays
drafted and organized by Apartment Project
supported by "NEUSTART KULTUR" and Fonds Soziokultur
September 2021 | Immigration | Episode 1
Shadows on my Soul
with Stella Sema Yeşiltaç
29 September, Wednesday
Live Documentary Screening
19:00-22:00 (GMT+2)
@Apartment Project
19:00 Door Opening
20:00 Screening
"Shadow on my Soul"
Live Screening
Germany, Turkey 2020
87'
(English Subtitles)
A quest – a love – and a piece of recent German history.
No longer do we have a clear definition of national identity and probably won't have one as we know it in the future – this is why questions of identity and integration will increasingly govern us… What does Integration mean? What does it mean for every single person on a daily basis, rationally as well as emotionally? How does every Generation, first, second and third deal with it?
The filmmaker and author Stella Sema Yeşiltaç has asked herself all these questions and went on a quest to interview her father, mother, and four siblings. Her parents, who have not spoken to each other in over 30 years, are telling their love and life stories separately, yet together – the four children share their experiences with the interviewer/ audience with a wonderful balance of sincerity, humor, and wit.
Live-stream link: https://www.facebook.com/apartmentprojectberlin/live/
Previous episodes of Chromatic Wednesdays: https://www.facebook.com/watch/487333424612058/870336180382778
******
Stella Sema Yesiltac studied German Philology and History at the University of Düsseldorf and worked as a trainee at a private broadcaster in Cologne. She produced and presented travel magazines for children and adults and she was a jury member of LUCAS – International Festival for Young Film Lovers in 2002. Since then she directed, shot reports, and developed formats for private and public television. In 2016 she produced the campaign When Numbers become Faces for the international organization SAMARITAN INTERNATIONAL, where she gave a voice to volunteers and refugees. Shadows on my Soul is her first independent documentary with her production company yesfilm. See Less