Chromatic Wednesdays #30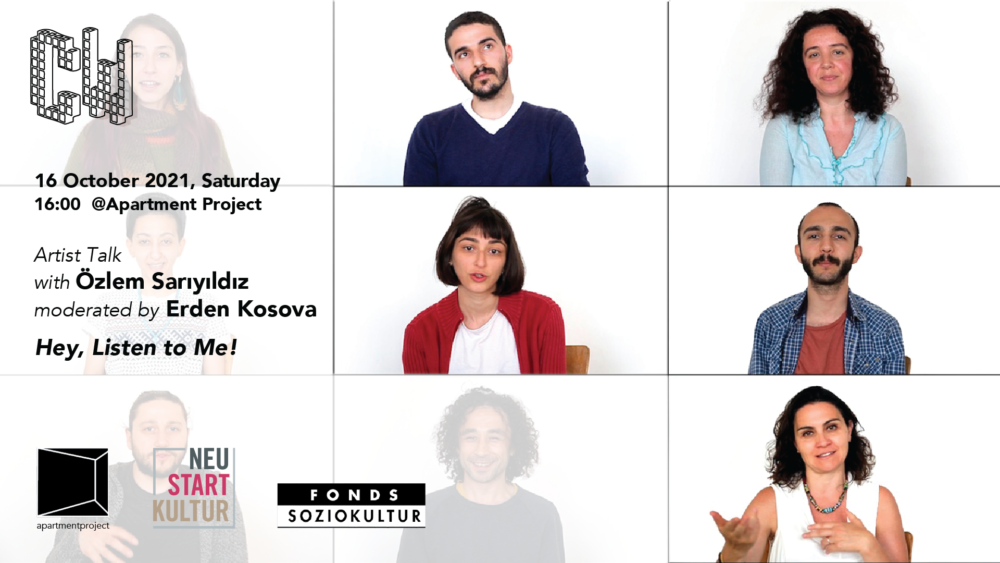 Chromatic Wednesdays
drafted and organized by Apartment Project
supported by "NEUSTART KULTUR" and Fonds Soziokultur
October 2021 | Immigration | Episode 2
Artist Talk with Özlem Sarıyıldız
Moderated by Erden Kosova
16 October, Saturday
@Apartment Project
16:00 Event Start
Live-stream link: https://www.facebook.com/apartmentprojectberlin/live/
Previous episodes of Chromatic Wednesdays: https://www.facebook.com/watch/487333424612058/870336180382778
-Negative Test or Vaccination is required-
We are happy to arrive at number 30.
For the theme Immigration, we are shifting our event from Wednesday to Saturday with a wonderful event!
Before moving to Germany in 2017 Özlem Sarıyıldız produced several films that focused on memory, gender, commons, and justice movements and relied on an aesthetics that was fed by genres such as documentary, interview, and oral history. Her recent practice in Berlin traces the lives experiences of people who migrated from Turkey to Germany with different motivations in different historical contexts. The video 'Welcomed in Germany?'(2018) was based on the intersectional dynamics that have shaped the lives of the people who moved to Berlin within the last decade, along with the so-called 'new wave'. Her ongoing research on earlier generations, particularly women who migrated as determined individuals and workers, has evolved along with some video pieces shown in the contemporary art context. In our conversation, we will hear from Özlem Sarıyıldız about these recent practices, the way in which they inform about her own living experience and changing subjectivity in the city of Berlin.
Özlem Sarıyıldız uses audio-visual materials as her main tools of research and expression. Her work focuses on gender, memory, and the commons, and strives to free a possibility of life using the direct beauty of the ruins of life as it is. She studied Industrial Design (BA) and Media and Cultural Studies (MS) at METU, before she started her PhD in Graphic Design at Bilkent University. She was a scholar of Jeanne Sauvé Foundation and a research assistant at University McGill, Montréal in 2014-2015. Her work was widely shown internationally. She lives and works in Berlin since 2017. utopictures.com
Erden Kosova was born in Istanbul in 1972. He has been in the organizational team of Berliner Herbstsalon at Maxim Gorki Theater since 2013. Kosova was also one of the co-hosts in the previous edition of Young Curators Academy in 2019. Last year, he and Galit Eilat organized the online discussion program "Art in Dark Times" at the independent project space bi'bak in Berlin. This year he curated the solo exhibition of Timur Çelik, "Witness", in the frame of stronger still. exhibition – installation – talks held at Gorki.