Chromatic Wednesdays #10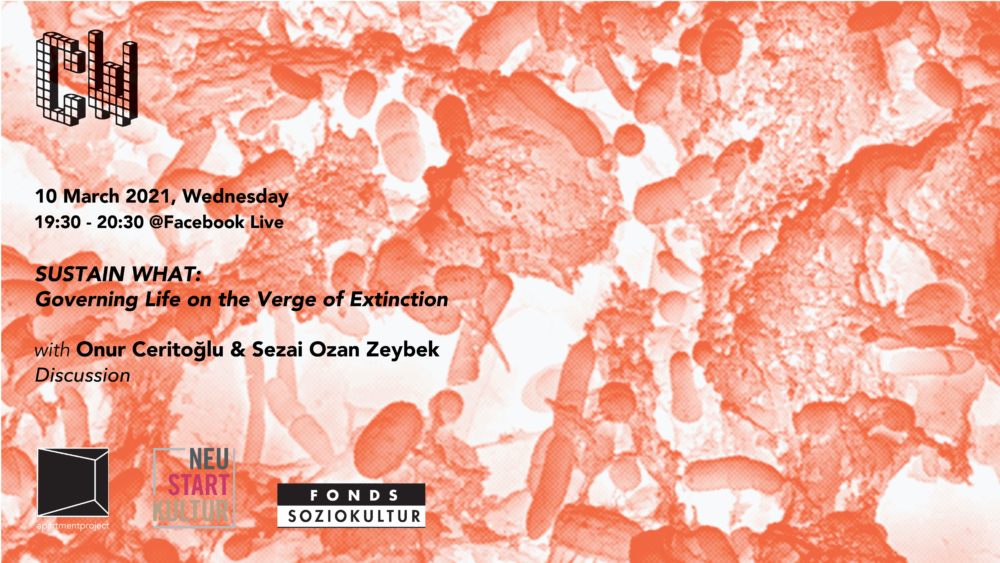 Chromatic Wednesdays
drafted and organized by Apartment Project
supported by "NEUSTART KULTUR" and Fonds Soziokultur
March 2021 | Sustainability| Episode 1
SUSTAIN WHAT?  Governing Life on the Verge of Extinction
10 March 2021, Wednesday
19:30-20:00 (GMT+1)
@Facebook Live
On the first episode of Chromatic Wednesday's "Sustainability" month, we are excited to host a talk between Onur Ceritoğlu and Sezai Ozan Zeybek. The discussion titled Sustain What? Governing Life on the Verge of Extinction will offer a timely assessment of sustainability, beginning with what we want to sustain from our carbon-fuelled societies. What alternatives have we developed so far in terms of new living spaces and what aspirations can we draw from the current political movements?
In the second part, Ceritoğlu and Zeybek will turn their attention to new ways of coexistence with other beings, calling it the probiotic turn instead of sustainability. As opposed to simplified/monoculture versions of life, there are mushrooming attempts of cohabiting the world with a diversity of beings – from rewilding forests to tending to gut flora. They aim to manage life to enhance life by inviting further cooperation from non-humans. Finally, we will discuss the implications and limits of these new techniques.
Facebook Event:
https://www.facebook.com/events/2799896787005923
Live-stream link: https://www.facebook.com/apartmentprojectberlin/live/
Previous episodes of Chromatic Wednesdays: https://www.facebook.com/watch/487333424612058/870336180382778
Onur Ceritoglu trained as an architect is an artist and academic researcher. He is mainly interested in infrastructural assemblages, both social and material, within rural and urban contexts. From a material-driven perspective, he works on critical design, participatory art, and installation projects. https://onurceritoglu.com/
Dr. Sezai Ozan Zeybek is a human geographer at FU, Berlin. He works on more-than-human collectives and ecologies, post-colonial formations of modernity, state violence, and militarism. His book, Animals in the Recent History of Turkey: Opening Social Sciences to non-Humans has come out in Turkish in 2020. He is the co-host of the podcast series Havadan Sudan. He also has five published children's books and currently working on a storytelling manual for grown-ups.
><
"Chromatic Wednesdays" is a culmination of our recent collective consciousness — the pandemic has disrupted our ability, creativity, and production. How do we as artists and intellectuals develop alternative forms of thinking and articulate this unclear existential situation? How can we get out of this limbo? How can we expel it?
Addressing these questions, Apartment Project developed a program titled Chromatic Wednesdays, which consists of 33 individual events, that will take place within eleven months starting from December 2, 2020. Each month will revolve around specific themes on current issues such as; immigration, pandemic, ecology, sustainability, gentrification, gender, survival, boundaries, geography, freedom of speech, and future. On three Wednesdays per month, artists, musicians, performers, scholars, scientists, and cultural practitioners will be invited to collaborate and share their research, practices, and experiences. Space will host a variety of events such as; concerts, performances, workshops, film screenings, lectures, exhibitions, readings, panel discussions, and dinner gatherings.
"Gefördert von der Beauftragten der Bundesregierung für Kultur und Medien"