Chromatic Wednesdays #15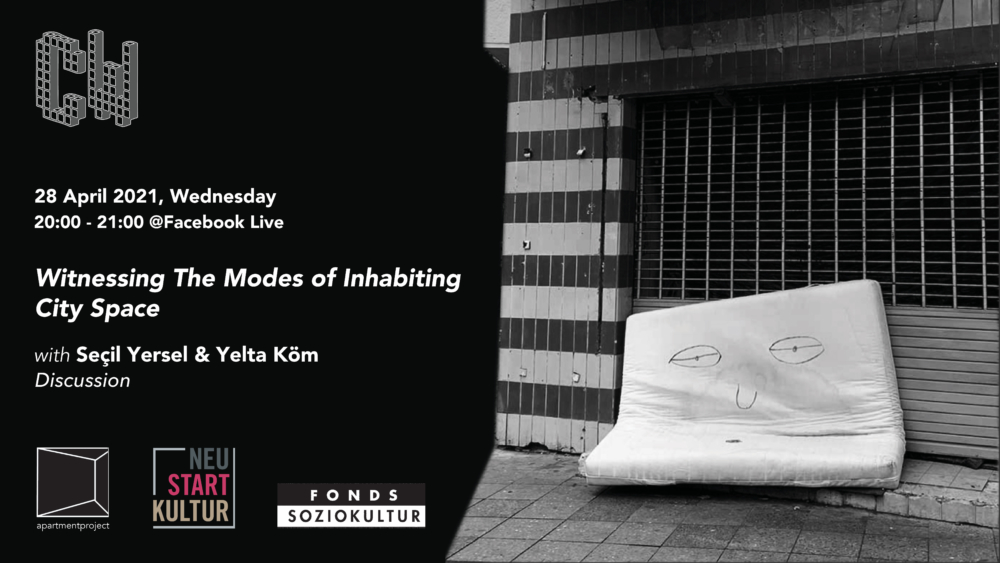 Chromatic Wednesdays
drafted and organized by Apartment Project
supported by "NEUSTART KULTUR" and Fonds Soziokultur
April 2021 | Gentrification | Episode 3
Witnessing the Modes of Inhabiting City Space
28 April 2021, Wednesday
20:00-21:00 (GMT+1)
@Facebook Live
Seçil Yersel is hosting Yelta Köm for the 15th episode of Chromatic Wednesdays. Yelta Köm considers the city as a dissolving entity, which is constantly in flux. He believes that urban structure is a living organism where all heterogeneity could meet and transform each other. Their conversion will cover a long span, which is from inhabiting practices to modes of living. The discussion will be around the questions: How do we witness the practices of living together? Who transforms the city? Can architects make a neighborhood? Can we reconsider the invisible power of the inhabitants together with the power of everyday life practices? What are the ownership discussions on land? The talk will evolve strolling through different neighborhoods of Istanbul and Berlin.
Yelta Köm trained as an architect and has done projects focused on urban commons, critical spatial practices, expansive fields of architecture, and neoliberal transformations. Seçil Yersel, with her practice in documenting "the place feeling" in cities, together with her experience in the Oda Projesi artist collective; will approach the field through the power of relationship models with everyday practices. Istanbul and Berlin will appear in the talk not as a comparison but as two city experiences. Focusing on these spatial practices Yersel & Köm will try to share an experience rather than knowledge; avoiding making generalizations and opening up more curiosities.
Seçil Yersel is an artist who has graduated from the sociology and art departments. Since 1994 she works with and within photography; in search for third spaces and new perceptions of placemaking; she walks, collects, sounds, and shares her productions in exhibitions, publications, in different occasions and moments. Yersel has been in the field of "writing" since 1994; she is documenting, recording, and noting daily life and also producing texts on exhibitions & performances. Since 2000 Seçil Yersel is the co-founder of the artist collective Oda Projesi (İstanbul) with Özge Açıkkol and Güneş Savaş. Oda Projesi situates itself specifically into the energetics of the city of İstanbul and its main objective has been to look at the rapid physical and social changes in the urban texture by creating alternative modes of space making and establishing links of solidarity through relationships.
http://tuhaf-iyeci.blogspot.com
http://odaprojesi.blogspot.com
Yelta Köm is an architect, artist, and researcher who incorporated architecture, artistic and spatial practices, and curatorial approaches to discuss social and political issues. His work is mainly influenced by the perception of the environment, the image of the city, neoliberal transformations, the tension between nature and technology, and collective movements. Köm's methodology and mediums demonstrate the diversity of each project, and collaboration with others is a vital part of it. Architectural technology, mapping systems, literal and cinematographic storytelling as well as questioning representation techniques are core components. He is co-founder of Herkes Icin Mimarlik (Architecture for All), a non-profit organization based in Istanbul that provides democratic and collaborative design processes between architects, urban designers, and citizens. He was the associate curator of the "Vardiya" exhibition at Pavilion of Turkey at Venice Architecture Biennale in 2018. He is also a member of Arazi Collective, which works on different spatial scales focusing on the Southeast region of Turkey. Currently, he is a researcher at the Topological Atlas project hosted by TU Delft.
https://www.yeltakom.info/
https://urban-surveillance.com/
"Chromatic Wednesdays" is a culmination of our recent collective consciousness — the pandemic has disrupted our ability, creativity, and production. How do we as artists and intellectuals develop alternative forms of thinking and articulate this unclear existential situation? How can we get out of this limbo? How can we expel it?
Addressing these questions, Apartment Project developed a program titled Chromatic Wednesdays, which consists of 33 individual events, that will take place within eleven months starting from December 2, 2020. Each month will revolve around specific themes on current issues such as; immigration, pandemic, ecology, sustainability, gentrification, gender, survival, boundaries, geography, freedom of speech, and future. On three Wednesdays per month, artists, musicians, performers, scholars, scientists, and cultural practitioners will be invited to collaborate and share their research, practices, and experiences. Space will host a variety of events such as; concerts, performances, workshops, film screenings, lectures, exhibitions, readings, panel discussions, and dinner gatherings.
"Gefördert von der Beauftragten der Bundesregierung für Kultur und Medien"