Chromatic Wednesdays #16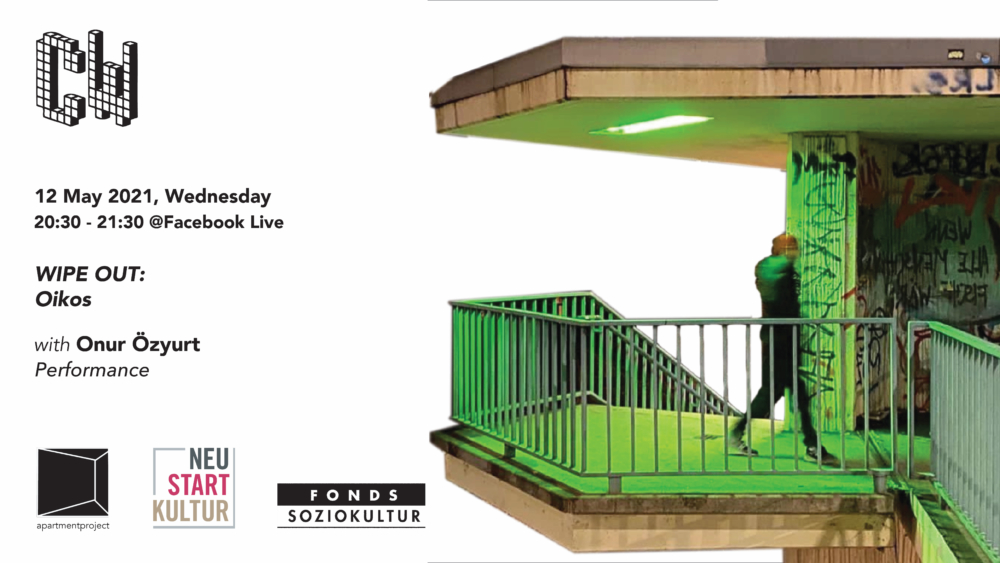 Chromatic Wednesdays
drafted and organized by Apartment Project
supported by "NEUSTART KULTUR" and Fonds Soziokultur
April 2021 | Ecology | Episode 1
WIPE OUT: OİKOS
12 May 2021, Wednesday
20:30-21:30 (GMT+1)
@Facebook Live
May 2021 marks the fifth 'monthiversary' of Chromatic Wednesdays. In December 2020, the project space was temporarily turned into a studio, welcoming 27 on-air guests so far who presented their work to our live audience under different themes such as freedom of speech, pandemic, borders, sustainability, and gentrification. Thankful to all the contributors who made each episode a blast, we are moving steadily onto the next chapter with joy.
This month, Chromatic Wednesdays focus on ecology, a theme we find even more relevant after witnessing snow in Berlin this week. The first episode of the month welcomes performance artist Onur Özyurt who asks: Where is my body: in the middle of destruction. I destroy. I listen to the destruction with all my senses. I listen to nature in cooperation with nature. I use nature's reflections and I travel from birth to collapse. How does my body react to and take part in this destruction? How does the destroying body turn into the destroyed one?
Özyurt's live dance performance will be produced jointly with the Chromatic Wednesdays team who will orchestrate the audio-video elements on stage in an attempt to create a spatial experience breaking through our factory-made screens and speakers.
PHOTO: Mert Bükesoy
Onur Özyurt, performer, mover. He was an actor and choreographer at Ege University Theater Ensemble and Ege Art Ensemble. He graduated from Folkart Acting Academy. He studied contemporary dance and improvisation with independent contemporary dance artist Cansu Ergin. He took part in her works. He staged solo performances in Istanbul and Izmir. He is currently training in Berlin Dance Institute's 3-year dance program with a focus on contemporary dance. He explores the contemporary human being's relationship to space, time, and society and their struggle to breathe.
Live-stream link: https://www.facebook.com/apartmentprojectberlin/live/
Previous episodes of Chromatic Wednesdays: https://www.facebook.com/watch/487333424612058/870336180382778
"Chromatic Wednesdays" is a culmination of our recent collective consciousness — the pandemic has disrupted our ability, creativity, and production. How do we as artists and intellectuals develop alternative forms of thinking and articulate this unclear existential situation? How can we get out of this limbo? How can we expel it?
Addressing these questions, Apartment Project developed a program titled Chromatic Wednesdays, which consists of 33 individual events, that will take place within eleven months starting from December 2, 2020. Each month will revolve around specific themes on current issues such as; immigration, pandemic, ecology, sustainability, gentrification, gender, survival, boundaries, geography, freedom of speech, and future. On three Wednesdays per month, artists, musicians, performers, scholars, scientists, and cultural practitioners will be invited to collaborate and share their research, practices, and experiences. Space will host a variety of events such as; concerts, performances, workshops, film screenings, lectures, exhibitions, readings, panel discussions, and dinner gatherings.
"Gefördert von der Beauftragten der Bundesregierung für Kultur und Medien"