Chromatic Wednesdays #18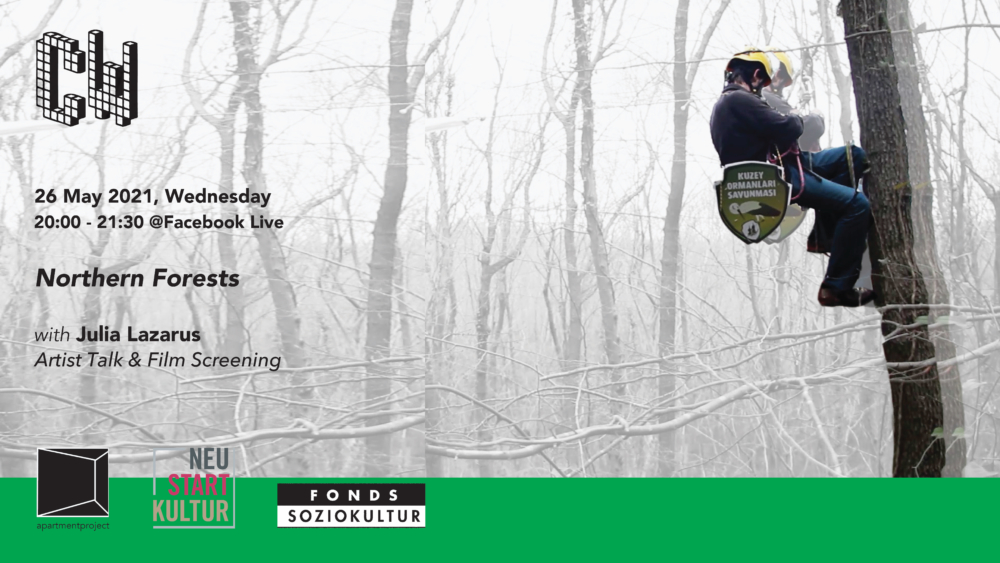 Chromatic Wednesdays
drafted and organized by Apartment Project
supported by "NEUSTART KULTUR" and Fonds Soziokultur
May 2021 | Ecology | Episode 3
Northern Forests
26 May 2021, Wednesday
20:00-21:30 (GMT+1)
@Facebook Live
In the final episode of our Ecology month, we will be welcoming Julia Lazarus with her film titled Northern Forests. This week's program consists of a live artist talk with Lazarus at our studio and the screening of the film.
Together with the Turkish activists of Kuzey Ormanlari Savunmasi (Northern Forest Defense), Julia Lazarus produced her film Northern Forests about the impact of the gigantic construction and infrastructure works in the greater Istanbul area. She visited the construction sites, participated in residents' gatherings, and got a first-hand look at the civil resistance organized by many against the capital-driven destruction of communal living space. The film accompanies the economic struggle, the still existing agricultural and forestry areas, which are threatened by expanding real estate business and questions the social necessity of profit-oriented development, which always benefits only a few. But it also questions our concept of nature, which we imagine as a wilderness and retreats far from our metropolitan lives, while we spend our daily lives in environments created and controlled by humans.
"One day man, one of the guests of this paradise, fell into the illusion that he could be the master of all creatures. He fattened himself while he consumed; He consumed while he fattened himself. As monuments to his arrogance, he built mushroom-like cities; the cities spread here and there and began to occupy everything." (From the picnic of "Northern Forests Defense" on the construction site of Istanbul's 3rd airport.)
The history of ecological destruction in and around Istanbul is not new, nor sudden. Since the 80s, Istanbul's population has grown rapidly. With 14.37 million inhabitants, the metropolitan region now ranks 23rd among the largest in the world. Most of the former rural areas near Istanbul have been given metropolitan status and will soon be developed and converted into new housing projects, gated communities and shopping centers. Concrete stretches for kilometers almost without a gap up to the Bosphorus and along the coast of the Sea of Marmara on both the European and Asian sides. The master plan for the future Istanbul metropolitan area envisages relocating large parts of the population from the inner-city districts to the newly built satellite towns with their own shopping centers and leisure facilities. The next major project, a second Bosphorus Canal between the Black Sea and the Sea of Marmara, is also already being planned. Istanbul, once built on seven hills, is in the process of swallowing up entire coasts, mountains, and forests.
The film is in English and Turkish with subtitles in English.
The artist talk will be held in English.
Julia Lazarus is a filmmaker, artist, and curator. She studied at the Hochschule der Künste, Berlin, and the California Institute of the Arts, Los Angeles. Her films and videos have been shown at numerous international film festivals as well as in exhibitions. Among others rencontres international, Paris; Globale, Berlin; Rotterdam Film Festival; Istanbul Film Festival; Kassel Dok-Fest; Diagonale, Graz and Viennale, Vienna. The films are distributed by Sixpackfilm Vienna and by e-flux, Berlin/New York. In 2017 she co-organized the Radical Film Network Conference in Tolpuddle, UK. In 2016 she initiated and curated "Undisciplinary Learning. Remapping the aesthetics of resistance" in cooperation with District, Berlin, as well as two further exhibitions on "The aesthetics of resistance" by Peter Weiss in Vienna and Berlin in 2014/15. She has also been involved in cultural-political networks for many years, most recently Haben und Brauchen and the Coalition of the Free Scene Berlin. She lives and works in Berlin. http://julialazarus.com/index.htm
Live-stream link: https://www.facebook.com/apartmentprojectberlin/live/
Previous episodes of Chromatic Wednesdays: https://www.facebook.com/watch/487333424612058/870336180382778
"Chromatic Wednesdays" is a culmination of our recent collective consciousness — the pandemic has disrupted our ability, creativity, and production. How do we as artists and intellectuals develop alternative forms of thinking and articulate this unclear existential situation? How can we get out of this limbo? How can we expel it?Addressing these questions, Apartment Project developed a program titled Chromatic Wednesdays, which consists of 33 individual events, that will take place within eleven months starting from December 2, 2020. Each month will revolve around specific themes on current issues such as; immigration, pandemic, ecology, sustainability, gentrification, gender, survival, boundaries, geography, freedom of speech, and future. On three Wednesdays per month, artists, musicians, performers, scholars, scientists, and cultural practitioners will be invited to collaborate and share their research, practices, and experiences. Space will host a variety of events such as; concerts, performances, workshops, film screenings, lectures, exhibitions, readings, panel discussions, and dinner gatherings.
"Gefördert von der Beauftragten der Bundesregierung für Kultur und Medien"