Chromatic Wednesdays #19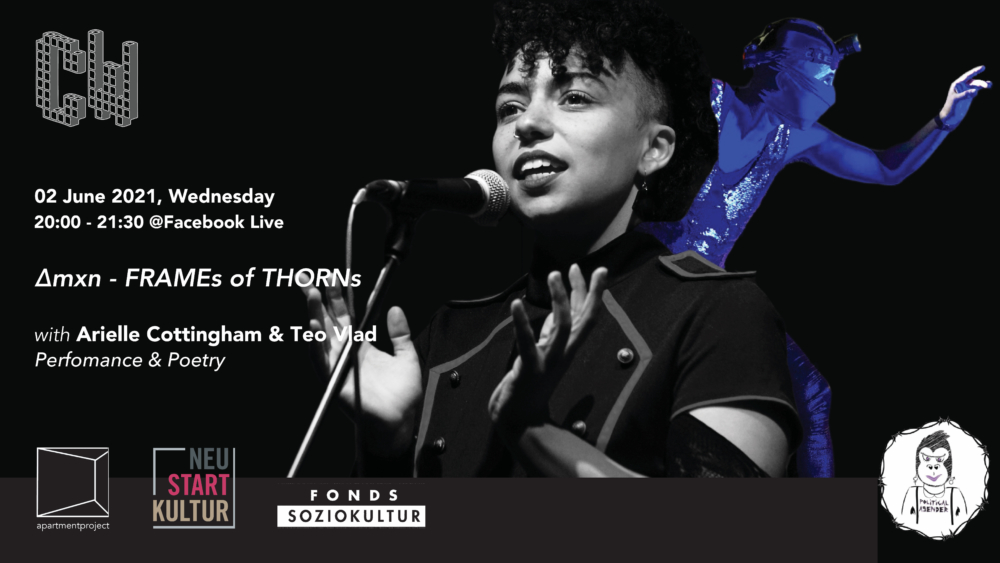 Chromatic Wednesdays
drafted and organized by Apartment Project
supported by "NEUSTART KULTUR" and Fonds Soziokultur
June 2021 | Gender | Episode 1
Frames of Thorns
26 May 2021, Wednesday
20:00-21:30 (GMT+1)
@Facebook Live
Celebrating Pride Month 2021, Chromatic Wednesdays focus on "Gender" as a theme in this month's program. The first episode brings together Teo Vlad and Arielle Cottingham to produce a collaborative live performance at Apartment Project's space in Neukölln.
Sitting at the intersection of gender, religion, and race, the live performance piece titled Δmxn – FRAMEs of THORNs explores how the queering of worship transform oppressive colonial systems into vehicles of liberation. Curated by Political Agender which is a Berlin-based inclusive, queer, and anti-racist feminist collective aiming to establish a safe space for Berlin's diverse spectrum of identities, the event will merge digital imageries, corporal movements, and poetry in synchronous and asynchronous universes.
Teo Vlad (1983, Romania) studied Visual Communication in Film&TV at Edinburgh College of Art (UK), works since 2011 in Berlin as a freelance Performer and Audio-Visual Designer for Film & Theater. Vlad's main interests have developed into live projections and visual experimentations with all kinds of modular projectors, sets, bodies, and objects in site-specific performances and theatre plays. Recently, discovering dance, the previous performative expression has merged with training in physical theatre, butoh, contemporary dance, and improvisation, acrobatics, conscious body system, contact improvisation, fighting monkey, martial arts, and more… Constantly searching to find the most unique and authentic form to put the inner untold stories in poetic form.
https://tsvladprojected.weebly.com/
Texas-born Afro-Latinx poet, editor, performance artist, and educator Arielle Cottingham has toured three continents in five years, giving performances and teaching workshops across North America, Australia, and Asia. Their work has appeared in multiple literary journals both in print and online, and notable performance spaces have included the Alley Theatre, the Museum of Old & New Art, and the Sydney Opera House, where they won the title of Australian National Poetry Slam Champion in 2016. Their work has been published in Stellium Literary Journal, BOOTH, Pressure Gauge Press, About Place Journal, and elsewhere, and their chapbook, Black and Ropy, was published by Pitt Street Poetry in 2017. They are currently pining for falafel at their desk in Berlin.
Live-stream link: https://www.facebook.com/apartmentprojectberlin/live/
Previous episodes of Chromatic Wednesdays: https://www.facebook.com/watch/487333424612058/870336180382778
"Chromatic Wednesdays" is a culmination of our recent collective consciousness — the pandemic has disrupted our ability, creativity, and production. How do we as artists and intellectuals develop alternative forms of thinking and articulate this unclear existential situation? How can we get out of this limbo? How can we expel it?Addressing these questions, Apartment Project developed a program titled Chromatic Wednesdays, which consists of 33 individual events, that will take place within eleven months starting from December 2, 2020. Each month will revolve around specific themes on current issues such as; immigration, pandemic, ecology, sustainability, gentrification, gender, survival, boundaries, geography, freedom of speech, and future. On three Wednesdays per month, artists, musicians, performers, scholars, scientists, and cultural practitioners will be invited to collaborate and share their research, practices, and experiences. Space will host a variety of events such as; concerts, performances, workshops, film screenings, lectures, exhibitions, readings, panel discussions, and dinner gatherings.
"Gefördert von der Beauftragten der Bundesregierung für Kultur und Medien"