Chromatic Wednesdays #4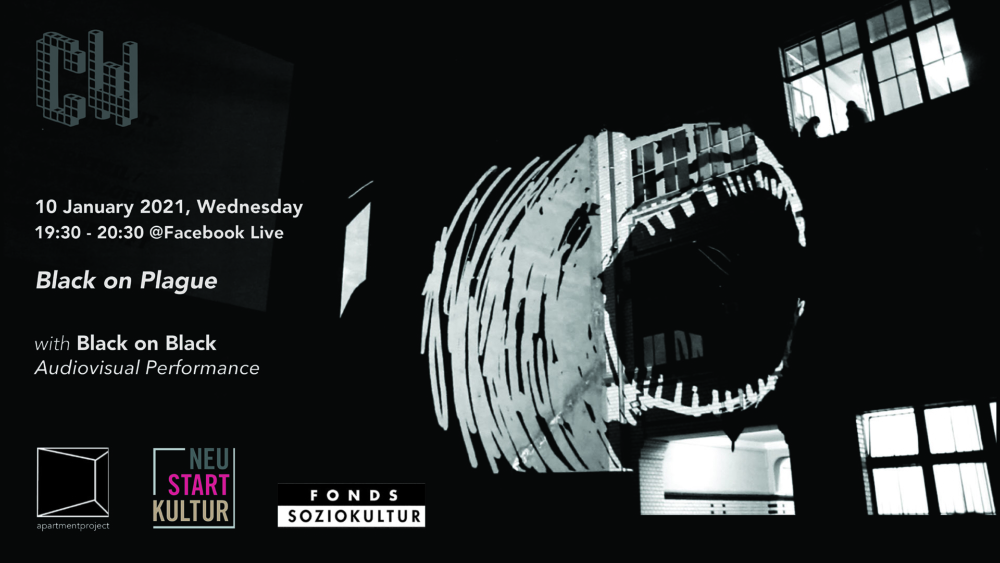 Drafted and organized by Apartment Project, supported by "NEUSTART KULTUR" and Fonds Soziokultur.
January 2021 | Pandemic | Episode 1
Black on Plague: Audio-visual performance by Black on Black
13 January 2021, Wednesday
19:30-20:30 (GMT+1)
Black on Plague is the special pandemic edition of the audiovisual performance series Black on Black. The surprising, archaic, tameless lines of Ceren Oykut, which will this time dive into microcosmos, will be accompanied by FezayaFirar's live synthesized sound world consisting of drone, noise, glitch, and broken melody elements. The current pandemic has quite unfortunately impacted "Black on Black", which will appear in this performance with one of its members missing and therefore call themselves "Black on Plague"
Link:

The event will be live-streamed on Facebook Live:
https://www.facebook.com/Apartment-Project…/live_videos/
Previous episodes of Chromatic Wednesdays: https://www.facebook.com/watch/487333424612058/870336180382778
Facebook Live
https://www.facebook.com/Apartment-Project-Berlin-487333424612058/live_videos/
Facebook Event:
https://www.facebook.com/events/731478544411396/
The artist Ceren Oykut, who has been living in Berlin for more than three years, was born in Turkey in 1978. For several years she was responsible for the live visualization of the Turkish band Baba Zula with her real-time generated, analog and complex hand drawings. Gradually she developed her own work, which she showed in some solo and group exhibitions in Istanbul. Her detailed drawings can be found on small scraps of paper as well as on large paper rolls or walls.
In her recent works, she uses different materials like metal and cuts her hand-drawn forms herself from metal sheets and exhibits the shadows created in space by special exposure methods. In live drawings she additionally plays with light and shadow in the projection, the specific elements of the played house wall or interacts with the materials of the musicians.
Her last exhibitions were in Maribor, Torino, Erlangen, Bremen and Berlin, among others. She was also a guest fellow at Künstlerhaus Bremen in 2017.
http://cerenoykut.blogspot.com/
FezayaFirar is an electronic improvisation duo founded in 2012 in Istanbul. FezayaFirar consists of two brothers Melih and Emre Sarıgöl and is named after one of the first Sci-Fi novels in the Turkish language, namely "Escape to outer space". FezayaFirar's sound world is made up of elements that invoke the monstrofobic dimension of space, infinity. The impro-synthesized musical layers form bridges between microcosm and macrocosm. The setting of Fezayafirar during Black on Black can be described as a rattling, a humming – sounds more reminiscent of Foley than of film music. In addition to analog and modular electronics, Fezayafirar also usesD.I.Y instruments and field recordings. Their soundworld consists of industrial ambient and drone sounds mixed with techno-rhythmic soundscapes.
Among Fezayafirar's recent important performances are "BoB in Radialsystem V", "Sonica Festival" in Ljubljana, "Open Air Wipkingen" in Zurich,"Marathon der Liebe" in Zürich, "Vorspiel" in Berlin, and "Multiversal" event series took place in different parts of Europe like Berlin, Barcelona, Marseille etc.
https://www.discogs.com/artist/5738213-FezayaFirar
"Chromatic Wednesdays" is a culmination of our recent collective consciousness — the pandemic has disrupted our ability, creativity, and production. How do we as artists and intellectuals develop alternative forms of thinking and articulate this unclear existential situation? How can we get out of this limbo? How can we expel it?
Addressing these questions, Apartment Project developed a program titled Chromatic Wednesdays, which consists of 33 individual events, that will take place within eleven months starting from December 2, 2020. Each month will revolve around specific themes on current issues such as; immigration, pandemic, ecology, sustainability, gentrification, gender, survival, boundaries, geography, freedom of speech, and future. On three Wednesdays per month, artists, musicians, performers, scholars, scientists, and cultural practitioners will be invited to collaborate and share their research, practices, and experiences. The space will host a variety of events such as; concerts, performances, workshops, film screenings, lectures, exhibitions, readings, panel discussions, and dinner gatherings.
"Gefördert von der Beauftragten der Bundesregierung für Kultur und Medien"