Chromatic Wednesdays #5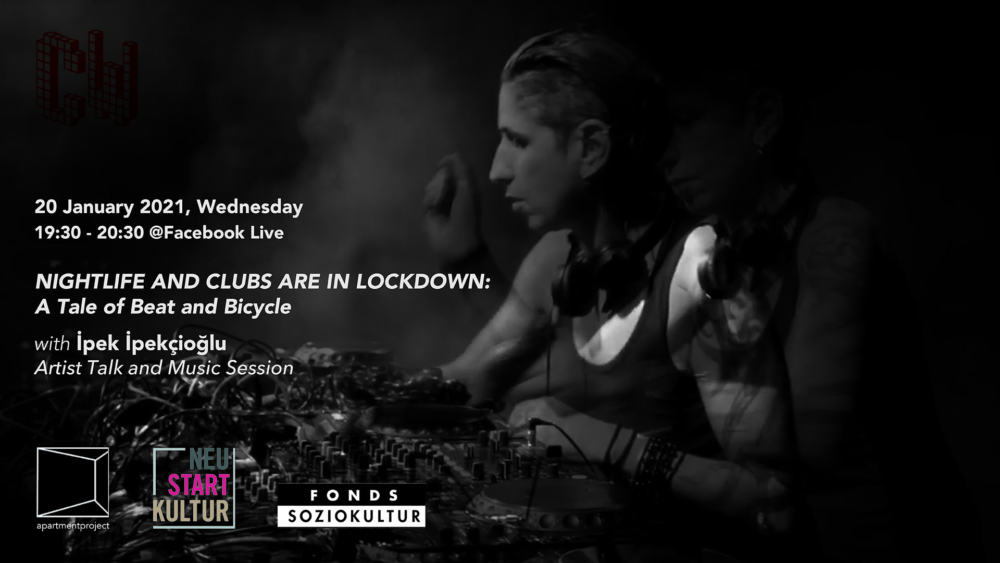 Drafted and organized by Apartment Project, supported by "NEUSTART KULTUR" and Fonds Soziokultur
January 2021 | Pandemic | Episode 2
Artist Talk and Music Session with İpek İpekçioğlu
Nightlife and clubs in lockdown: A Tale of Beat and Bicycle
20 January 2021, Wednesday
19:00-20:00 (GMT+1)
For the second episode of Chromatic Wednesdays' "Pandemic" edition, we host Berlin-based DJ, artist, and activist İpek İpekçioğlu in our studio at Apartment Project for an artist talk and music session. The artist's mastery in creating distinct choreographies between genres and frequencies is the result of her intrinsic knowledge and complete devotion to electronic music. With abundant rhythms from Anatolia and the Middle East weaved in the DJ's pulsating sound, İpekçioğlu's flow conquers its audience in a heartbeat.

Nowadays, describing the sensations radiated by live DJ sets is getting more and more difficult. Given that Berlin's clubs, music venues, and open-airs have been closed for almost a year, the city is completely stripped of its noised sound-atmosphere. Suddenly, the entire community of one of the capitals of club culture, including its workers, organizers, and creators, found themselves in a vulnerable position. Sadly, the struggle is not limited to the industry but also applies to the city's lively and politically engaged subcultures. This past year which marked momentous civil rights movements ignited out of urgent necessity, the pandemic has caused a great setback in producing artistic and actional reactions collectively.
Still, in our immediate vicinity, the pandemic holds its position as a serious threat to our modes of expression and production. During our conversation with İpek İpekçioğlu, we will explore the evolution of the artist's musical production and activism, reflecting on the stark contrast between "before" and "during" the pandemic. For the yearning clubbers of Berlin, we will follow a thematic route on wheels, visiting the dark sanctuaries of the city on a bicycle. During our ride from Kit Kat to Yaam, from Sisyphos to SO36, we will try to catch a glimpse of the explosive nightlife of Berlin and we will dream of our next-first step on the dance-floor.
Based in Berlin, queer-living DJ, producer and curator, İpek İpekçioğlu has an established reputation across nightlife scenes worldwide. Ipek Ipekcioglu is regarded as one of the most popular and diverse DJ's of the Berlin club scenes and internationally known as Queen of Eklektik BerlinIstan. Besides DJing and producing music, Ipek Ipekcioglu has a strong social-critical agenda related to women, migration, queer and gender topics. She focuses on contemporary, daily issues and transports these into her music. In all musical events she has curated and participated in, she maintains a principle of cultural – gender diversity and pushing boundaries within the ethnic and electronic music scene for over a decade. The politically minded producer, DJ, activist and member of female: pressure network is consistently on the cutting edge throughout the cultural arena. Ipek is also Patron (Schirmherrin) at the "Aktion Courage – School against racism" (http://www.aktioncourage.org/startseite/) and Boardmember at Gladt e.V. www.gladt.de (LGBTQI* with immigrant background from Turkey) and in 2018 she received an award of lesbian visibility For her engagement. And she is resident-Dj at the internationally very well – known monthly QueerHomoriental event Gayhane @ SO36 in Berlin. She has toured across Europe, the US, North-Africa and South-Asia.Ipek Ipekcioglu offers DJ workshops for female participants. Its goal is to promote visibility amongst female DJs and acts. Ipek has been offering dj-workshop for female participants in Vienna, Graz, Beijing, Tunis, Istanbul, Montréal and in Berlin. This vibrant mix and her work have earned her a place as "one of Berlin's most important cultural contributors" [Zitty Magazine]. She proudly carries the title of "MC of cross-cultural understanding" (Daniel Bax – TAZ). Ipek was invited to take her Hybrid identities performance to MIT, UMass Amherst, Goethe Institute Montréal, and in cooperation with IfA (Institute für Auslandsbeziehungen und der Deutschen Botschaft Japan, she offered workshops f.a. at the Sophia University Tokyo, MiT- Boston, Doshisha University Kyoto, DZGO Osaka. www.djipek.com
Facebook Live
https://www.facebook.com/Apartment-Project-Berlin-487333424612058/live_videos/
Facebook Event:
https://fb.me/e/18JY3LiZ8
"Chromatic Wednesdays" is a culmination of our recent collective consciousness — the pandemic has disrupted our ability, creativity, and production. How do we as artists and intellectuals develop alternative forms of thinking and articulate this unclear existential situation? How can we get out of this limbo? How can we expel it?
Addressing these questions, Apartment Project developed a program titled Chromatic Wednesdays, which consists of 33 individual events, that will take place within eleven months starting from December 2, 2020. Each month will revolve around specific themes on current issues such as; immigration, pandemic, ecology, sustainability, gentrification, gender, survival, boundaries, geography, freedom of speech, and future. On three Wednesdays per month, artists, musicians, performers, scholars, scientists, and cultural practitioners will be invited to collaborate and share their research, practices, and experiences. The space will host a variety of events such as; concerts, performances, workshops, film screenings, lectures, exhibitions, readings, panel discussions, and dinner gatherings.
"Gefördert von der Beauftragten der Bundesregierung für Kultur und Medien"