Chromatic Wednesdays #8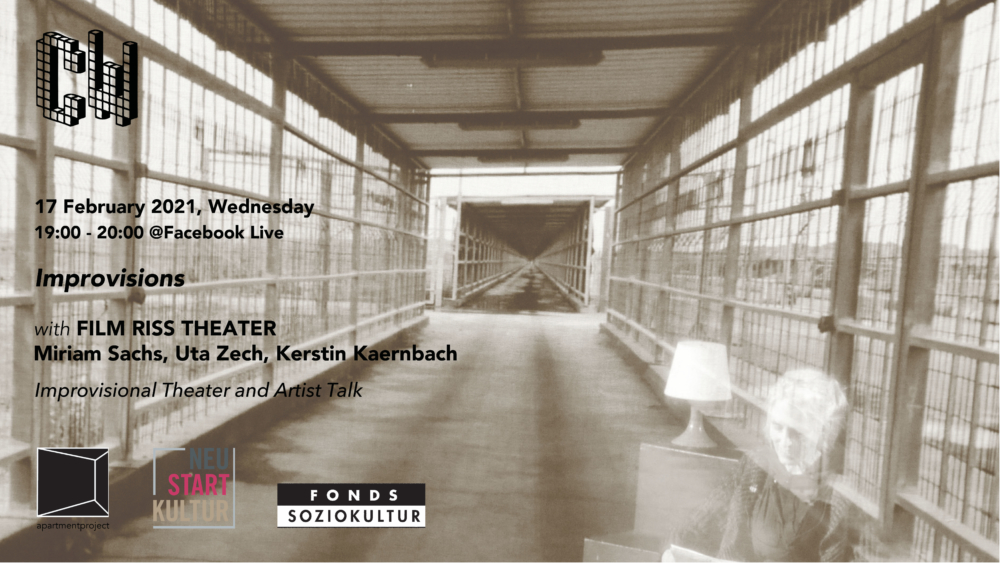 Chromatic Wednesdays
drafted and organized by Apartment Project
supported by "NEUSTART KULTUR" and Fonds Soziokultur
February 2021 | Border | Episode 2
IMPROVISIONS: Improvisational theater and artist talk by FILM RISS THEATER
17 February 2021, Wednesday
19:00-20:00 (GMT+1)
@Facebook Live
We are pleased to welcome FILM RISS THEATER to our program for the second episode of the theme Borders. FILM RISS THEATER overcomes not only the borders between the genres of theater and film but also geopolitical borders, constantly in the search of an interface between impossibilities. Based on their urge to jump from reality into another dimension, the collective performs juxtaposing layers of physical and digital presence. FILM RISS THEATER refers to their performances as IMPROVISIONEN, which they often stage at Schaubude Berlin.
Three years ago, the collective extended their multimedia-playground to the world of the live stream and started working with artists from Gaza using the power of the digital realm. Performers in two different continents being "beamed up" onto one stage in Berlin, crossing any borders and checkpoints by creating a semi-reality that tells unheard stories using hand and feet, pictures, music, and Babylonic confusions. 
**Opening a window to a new territory, FILM RISS THEATER invites the audience to send them photos of rooms and objects of yours before the show, which will be included in their stage-scenario at Apartment Project. You are encouraged to send your photos to sachs-film@web.de**
www.improvisionen.wordpress.com
The event will be held in English.
Facebook Event: https://fb.me/e/7l8bZ12lf
Live-stream link: https://www.facebook.com/Apartment-Project…/live_videos/
Previous episodes of Chromatic Wednesdays:https://www.facebook.com/watch/487333424612058/870336180382778
FILM RISS THEATER developed out of Miriam Sachs' theater collaboration with actors, musicians, and other artists and, for some years now, scientists. Miriam Sachs is a trained actress, but her work has developed into more over time: She is the author of several novels and an illustrator/animator. The directing happened more because she, together with her fellow actors Jürgen Ruoff and others, wanted to make classical texts concrete and tangible and to link them with all of their own images and associations, which as an actor you usually have to keep to yourself.
><
Chromatic Wednesdays is a culmination of our recent collective consciousness — the pandemic has disrupted our ability, creativity, and production. How do we as artists and intellectuals develop alternative forms of thinking and articulate this unclear existential situation? How can we get out of this limbo? How can we expel it?
Addressing these questions, Apartment Project developed a program titled Chromatic Wednesdays, which consists of 33 individual events, that will take place within eleven months starting from December 2, 2020. Each month will revolve around specific themes on current issues such as; immigration, pandemic, ecology, sustainability, gentrification, gender, survival, boundaries, geography, freedom of speech, and future. On three Wednesdays per month, artists, musicians, performers, scholars, scientists, and cultural practitioners will be invited to collaborate and share their research, practices, and experiences. Space will host a variety of events such as; concerts, performances, workshops, film screenings, lectures, exhibitions, readings, panel discussions, and dinner gatherings.
><
"Gefördert von der Beauftragten der Bundesregierung für Kultur und Medien"